Posts for tag: crowns
By Bennett Family Dental
August 21, 2019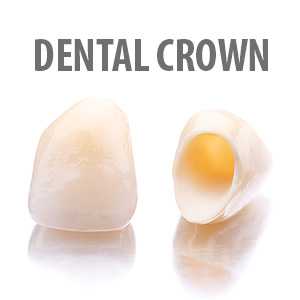 Porcelain crowns have been used to restore problem teeth since at least the early 20th Century. Crown technology has gradually progressed from the early use of precious metals like gold or silver to more life-like porcelain crowns, often with a metal interior for added strength. Today, most crowns are all-porcelain, made with newer materials that not only look attractive but can endure under the pressures of daily chewing or biting.
While crowns are often part of restorations for missing teeth, they're also commonly used to cap or fit over a viable tooth with structural or appearance problems. Here are 4 situations where a crown could improve a tooth's form and function.
Traumatized teeth. A significant blow to the face or mouth could generate enough force to chip away or fracture a significant amount of structure from a tooth. If the root remains healthy and firmly attached within the jaw, however, a crown can replace the missing structure and restore the tooth's function and appearance.
Root canal treatments. Root canal treatments remove infected or dead tissue within a tooth's pulp chamber, its inner core, and the root canals. The procedure rescues the tooth but can in the process significantly alter the tooth's structure and appearance. A crown not only restores the tooth but also provides added protection against further decay or tooth fracture.
Teeth with multiple fillings. We can effectively treat cavities caused by tooth decay by filling them. But with each filling we must remove more of the decayed structure and shape the cavity to accommodate the filling. After a number of times, a tooth may not have enough structure left to support another filling. If the tooth is still viable, a crown could solve this dilemma.
Abnormally developed teeth. Teeth sometimes don't erupt in the jaw as they should and may be only partly visible. The tooth not only looks out of place but it can't fully function like a normal tooth. Capping an abnormally developed tooth with a crown will help normalize it and allow it to blend in with surrounding teeth.
If you would like more information on crown restorations, please contact us or schedule an appointment for a consultation. You can also learn more about this topic by reading the Dear Doctor magazine article "Crowns & Bridgework."
By Bennett Family Dental
April 23, 2019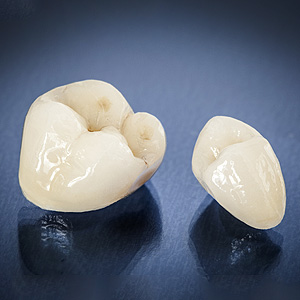 All crowns are designed to restore functionality to a damaged tooth. But crowns can differ from one another in their appearance, in the material they're made from, and how they blend with other teeth.
A crown is a metal or porcelain artifice that's bonded permanently over a decayed or damaged tooth. Every crown process begins with preparation of the tooth so the crown will fit over it. Afterward, we make an impression of the prepared tooth digitally or with an elastic material that most often is sent to a dental laboratory to create the new crown.
It's at this point where crown composition and design can diverge. Most of the first known crowns were made of metal (usually gold or silver), which is still a component in some crowns today. A few decades ago dental porcelain, a form of ceramic that could provide a tooth-like appearance, began to emerge as a crown material. The first types of porcelain could match a real tooth's color or texture, but were brittle and didn't hold up well to biting forces. Dentists developed a crown with a metal interior for strength and a fused outside layer of porcelain for appearance.
This hybrid became the crown design of choice up until the last decade. It is being overtaken, though, by all-ceramic crowns made with new forms of more durable porcelain, some strengthened with a material known as Lucite. Today, only about 40% of crowns installed annually are the metal-porcelain hybrid, while all-porcelain crowns are growing in popularity.
Of course, these newer porcelain crowns and the attention to the artistic detail they require are often more expensive than more traditional crowns. If you depend on dental insurance to help with your dental care costs, you may find your policy maximum benefit for these newer type crowns won't cover the costs.
If you want the most affordable price and are satisfied primarily with restored function, a basic crown is still a viable choice. If, however, you would like a crown that does the most for your smile, you may want to consider one with newer, stronger porcelain and made with greater artistic detail by the dental technician. In either case, the crown you receive will restore lost function and provide some degree of improvement to the appearance of a damaged tooth.
If you would like more information on porcelain crown, please contact us or schedule an appointment for a consultation.
By Bennett Family Dental
August 16, 2018
In the realm of restorative dentistry, dental implants are king. A dental implant can replace a tooth with a permanent, life-like restoration with a solid reputation for durability.
Implants are also known for one other quality — variety. Not all implants are alike, and they have varied applications for use. Available in various shapes and sizes, they can be used for a single tooth or as part of a multiple tooth bridge or overdenture. And while their basic architecture is the same, you also have two options for how the permanent crown (the visible tooth portion) attaches to the implant: screwed or cemented.
A screw attachment can securely fasten a crown to an implant without the need for cement; it also allows for easy removal for repair or replacement should the crown become damaged or worn. On the other hand, it could pose a cosmetic problem — even though the access hole for the screw may be covered with a tooth-colored filling, it could still be distinguishable from the rest of the crown. There's also a slight risk of the crown chipping around the access hole.
A crown cemented to the implant won't have this cosmetic issue with an access hole, and will look just like a natural tooth. But unlike a screwed crown, removing a cemented crown can be more difficult. The cement may also cause gum inflammation and potential bone loss in sensitive patients.
The condition of your mouth, the type of implant you're receiving and other circumstances will all factor into determining which method is best for you. If we're "immediately loading" the crown (meaning we're affixing a temporary crown to the implant immediately after placement in the jaw), then the screw method may be more advantageous. Aesthetically speaking, though, a cemented crown may be a better option in terms of final smile appearance.
But whichever method is used, you'll still benefit from what implants do best — help you regain the function lost from a missing tooth and change your smile for the better.
If you would like more information on your options with dental implants, please contact us or schedule an appointment for a consultation. You can also learn more about this topic by reading the Dear Doctor magazine article "How Crowns Attach to Implants."