Posts for tag: dental implants
By Bennett Family Dental
January 23, 2019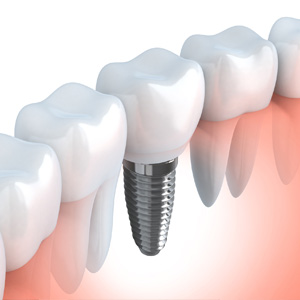 Unlike other tooth replacement options, dental implants require a surgical procedure. But don't let your imagination run wild — the procedure is relatively minor and easy for most people to undergo.
Implants are unique among restorations because they replace a tooth's root. A metal titanium post, substituting for the root, must be surgically placed into the jawbone. While the procedure itself is simple and no more involved than a tooth extraction, it does require careful attention to detail before, during and afterward.
Our first step is to examine the target site with x-rays (often CT scanning) to pinpoint the best location for placement. This is critical because where we place the implant will have a huge bearing on how attractive and natural the implant finally appears. From this evaluation we frequently create a surgical guide.
Surgery begins with a local anesthesia to completely numb the site. You will feel no pain during the procedure and only minimal discomfort for a few days afterward. We then make small incisions in the gums to access the bone and create a small channel or hole.
Using the surgical guide, we then initiate a drilling sequence that gradually increases the size of the channel until it's the size and shape of the implant post. One thing we must do at this point is take our time: we use gentle pressure and water-cooling to avoid overheating and damaging the bone.
Once we're finished with drilling we remove the implant from its sterile packaging and imbed it directly into the prepared channel. It's then a matter of verifying the location with x-rays and then closing the gum tissue with self-absorbing sutures if necessary.
Most patients only need mild pain medication like aspirin or ibuprofen to manage discomfort afterwards. You won't even notice it in a week or less. After several weeks in which the bone grows and adheres to the implant (a process called osseointegration), you'll be ready for the final step, attaching the life-like porcelain crown to the implant.
Although the process can take several weeks to months, your discomfort should be minimal at any stage. In the end, your patience will be rewarded with a new, more attractive smile.
If you would like more information on the process of obtaining dental implants, please contact us or schedule an appointment for a consultation. You can also learn more about this topic by reading the Dear Doctor magazine article "Dental Implant Surgery."
By Bennett Family Dental
November 04, 2018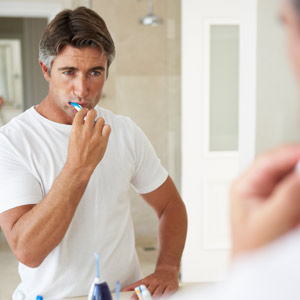 Dental implants are known for their durability as well as life-like beauty. Thanks to their unique construction and ability to integrate with bone, they have a very high success rate and can last for decades.
But while they're less problematic than other restorations, we still can't "set them and forget them." While the implants themselves aren't susceptible to disease, the supporting gums, bone and adjacent teeth are. If you want them to last as long as possible, you'll need to care for them and the rest of your mouth through daily oral hygiene and semi-annual office cleanings.
With that said, there are a few differences in how we perform hygiene tasks with implants. This is due to the way in which they attach to the jaw, as the titanium post is inserted directly into the bone. Natural teeth, on the other hand, are held in place by the periodontal ligament, a strong connective tissue that lies between the teeth and bone. The ligament holds the teeth firmly in place while also allowing minute tooth movement in response to changes in the mouth.
The ligament also has an ample blood supply that assists with fighting infection that may arise in the tooth and its supporting gums. Without this extra source of defense, infections that arise around an implant can grow quickly into a condition known as peri-implantitis and lead to rapid bone loss that could cause the implant to fail.
That's why you and your hygienist must be ever vigilant to the buildup of plaque, the bacterial film that gives rise to dental disease, around implants and adjacent teeth. This includes removing plaque buildup from implant surfaces, although your hygienist will use tools (scalers or curettes) made of plastic or resin rather than traditional metal to avoid scratching the implant's dental material. They'll likewise use nylon or plastic tips with ultrasonic equipment (which uses high vibration to loosen plaque) and lower power settings with water irrigation devices.
Keeping infection at bay with effective hygiene is the number one maintenance goal with dental implants. Doing your part along with your hygienist will help you get the most of this investment in your smile.
If you would like more information on oral hygiene with dental implants, please contact us or schedule an appointment for a consultation. You can also learn more about this topic by reading the Dear Doctor magazine article "Dental Implant Maintenance."
By Bennett Family Dental
August 16, 2018
In the realm of restorative dentistry, dental implants are king. A dental implant can replace a tooth with a permanent, life-like restoration with a solid reputation for durability.
Implants are also known for one other quality — variety. Not all implants are alike, and they have varied applications for use. Available in various shapes and sizes, they can be used for a single tooth or as part of a multiple tooth bridge or overdenture. And while their basic architecture is the same, you also have two options for how the permanent crown (the visible tooth portion) attaches to the implant: screwed or cemented.
A screw attachment can securely fasten a crown to an implant without the need for cement; it also allows for easy removal for repair or replacement should the crown become damaged or worn. On the other hand, it could pose a cosmetic problem — even though the access hole for the screw may be covered with a tooth-colored filling, it could still be distinguishable from the rest of the crown. There's also a slight risk of the crown chipping around the access hole.
A crown cemented to the implant won't have this cosmetic issue with an access hole, and will look just like a natural tooth. But unlike a screwed crown, removing a cemented crown can be more difficult. The cement may also cause gum inflammation and potential bone loss in sensitive patients.
The condition of your mouth, the type of implant you're receiving and other circumstances will all factor into determining which method is best for you. If we're "immediately loading" the crown (meaning we're affixing a temporary crown to the implant immediately after placement in the jaw), then the screw method may be more advantageous. Aesthetically speaking, though, a cemented crown may be a better option in terms of final smile appearance.
But whichever method is used, you'll still benefit from what implants do best — help you regain the function lost from a missing tooth and change your smile for the better.
If you would like more information on your options with dental implants, please contact us or schedule an appointment for a consultation. You can also learn more about this topic by reading the Dear Doctor magazine article "How Crowns Attach to Implants."