Posts for tag: oral hygiene
By Bennett Family Dental
November 04, 2018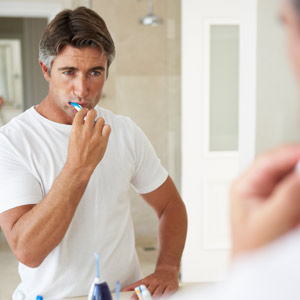 Dental implants are known for their durability as well as life-like beauty. Thanks to their unique construction and ability to integrate with bone, they have a very high success rate and can last for decades.
But while they're less problematic than other restorations, we still can't "set them and forget them." While the implants themselves aren't susceptible to disease, the supporting gums, bone and adjacent teeth are. If you want them to last as long as possible, you'll need to care for them and the rest of your mouth through daily oral hygiene and semi-annual office cleanings.
With that said, there are a few differences in how we perform hygiene tasks with implants. This is due to the way in which they attach to the jaw, as the titanium post is inserted directly into the bone. Natural teeth, on the other hand, are held in place by the periodontal ligament, a strong connective tissue that lies between the teeth and bone. The ligament holds the teeth firmly in place while also allowing minute tooth movement in response to changes in the mouth.
The ligament also has an ample blood supply that assists with fighting infection that may arise in the tooth and its supporting gums. Without this extra source of defense, infections that arise around an implant can grow quickly into a condition known as peri-implantitis and lead to rapid bone loss that could cause the implant to fail.
That's why you and your hygienist must be ever vigilant to the buildup of plaque, the bacterial film that gives rise to dental disease, around implants and adjacent teeth. This includes removing plaque buildup from implant surfaces, although your hygienist will use tools (scalers or curettes) made of plastic or resin rather than traditional metal to avoid scratching the implant's dental material. They'll likewise use nylon or plastic tips with ultrasonic equipment (which uses high vibration to loosen plaque) and lower power settings with water irrigation devices.
Keeping infection at bay with effective hygiene is the number one maintenance goal with dental implants. Doing your part along with your hygienist will help you get the most of this investment in your smile.
If you would like more information on oral hygiene with dental implants, please contact us or schedule an appointment for a consultation. You can also learn more about this topic by reading the Dear Doctor magazine article "Dental Implant Maintenance."
By Bennett Family Dental
June 27, 2018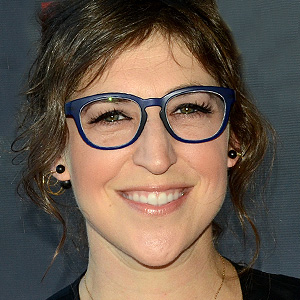 How many actresses have portrayed a neuroscientist on a wildly successful TV comedy while actually holding an advanced degree in neuroscience? As far as we know, exactly one: Mayim Bialik, who plays the lovably geeky Amy Farrah Fowler on CBS' The Big Bang Theory… and earned her PhD from UCLA.
Acknowledging her nerdy side, Bialik recently told Dear Doctor magazine, "I'm different, and I can't not be different." Yet when it comes to her family's oral health, she wants the same things we all want: good checkups and great-looking smiles. "We're big on teeth and oral care," she said. "Flossing is really a pleasure in our house."
How does she get her two young sons to do it?
Bialik uses convenient pre-loaded floss holders that come complete with floss and a handle. "I just keep them in a little glass right next to the toothbrushes so they're open, no one has to reach, they're just right there," she said. "It's really become such a routine, I don't even have to ask them anymore."
As many parents have discovered, establishing healthy routines is one of the best things you can do to maintain your family's oral health. Here are some other oral hygiene tips you can try at home:
Brush to the music — Plenty of pop songs are about two minutes long… and that's the length of time you should brush your teeth. If brushing in silence gets boring, add a soundtrack. When the music's over — you're done!
Flossing can be fun — If standard dental floss doesn't appeal, there are many different styles of floss holders, from functional ones to cartoon characters… even some with a martial-arts theme! Find the one that your kids like best, and encourage them to use it.
The eyes don't lie — To show your kids how well (or not) they are cleaning their teeth, try using an over-the-counter disclosing solution. This harmless product will temporarily stain any plaque or debris that got left behind after brushing, so they can immediately see where they missed, and how to improve their hygiene technique — which will lead to better health.
Have regular dental exams & cleanings — When kids see you're enthusiastic about going to the dental office, it helps them feel the same way… and afterward, you can point out how great it feels to have a clean, sparkling smile.
For more information about oral hygiene, please contact our office or schedule a consultation. You can read the interview with Mayim Bialik in the latest issue of Dear Doctor magazine.
By Bennett Family Dental
April 18, 2018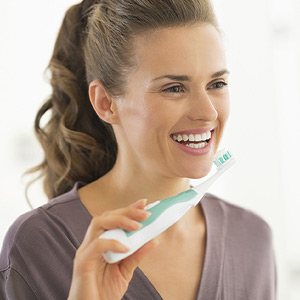 Brushing and flossing are foundational to good oral health and an essential part of daily life. Practicing both these habits removes most disease-causing bacterial plaque from tooth and gum surfaces.
It doesn't take much to manually perform them — a quality soft-bristle toothbrush, fluoride toothpaste and string floss. But what if you have a physical impairment that makes performing these tasks difficult to perform — or your mouth condition requires a little more "power" to adequately access and clean surfaces?
You do have power options for both brushing and flossing. Electric toothbrushes, of course, have been available since the 1950s. As with other technology, they've improved in quality and affordability over the last few decades. They're available in various sizes, rechargeable or battery, and each with their own claims of cleaning ability.
The ultimate question, though, is: are they as effective at removing plaque as manual brushing? That's been the subject of a number of comprehensive studies, including one conducted by the Cochrane Collaboration, a research organization. They evaluated a number of powered toothbrushes over various lengths of time. They concluded that some powered toothbrushes with a rotation-oscillation action had a statistically significant (though modest) reduction in plaque compared with manual toothbrushes.
As to flossing, admittedly it does take some dexterity to accomplish effectively. Traditional string flossing is also difficult if not impossible for people with braces or similar access restrictions to the teeth. An oral irrigator (or water flosser) is a viable alternative. Water flossers work by pulsating water at high pressure through special tips at the end of a handheld or countertop device. The pressurized stream penetrates between teeth and below the gums to flush away plaque.
Are water flossers effective? According to one recent study orthodontic patients were able to remove up to five times the plaque between teeth as those who used only a manual toothbrush.
When considering alternatives to your manual toothbrush or string floss, speak with us first. We'll be happy to guide you toward the best form of brushing and flossing to do the most good in your situation.
If you would like more information on oral hygiene options, please contact us or schedule an appointment for a consultation.