Posts for: November, 2021
By Bennett Family Dental
November 20, 2021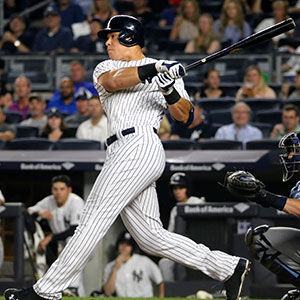 Between the final game of the World Series in late October and spring training in February, major league baseball players work on their skills preparing for the new season. Reporters on a Zoom call to the New York Yankees' training camp wanted to know what star outfielder Aaron Judge had been doing along those lines. But when he smiled, their interest turned elsewhere: What had Aaron Judge done to his teeth?
Already with 120 homers after only five seasons, Judge is a top player with the Yankees. His smile, however, has been less than spectacular. Besides a noticeable gap between his top front teeth (which were also more prominent than the rest of his teeth), Judge also had a chipped tooth injury on a batting helmet in 2017 during a home plate celebration for a fellow player's walk-off home run.
But now Judge's teeth look even, with no chip and no gap. So, what did the Yankee slugger have done?
He hasn't quite said, but it looks as though he received a "smile makeover" with porcelain veneers, one of the best ways to turn dental "ugly ducklings" into "beautiful swans." And what's even better is that veneers aren't limited to superstar athletes or performers—if you have teeth with a few moderate dental flaws, veneers could also change your smile.
As the name implies, veneers are thin shells of porcelain bonded to the front of teeth to mask chips, cracks, discolorations or slight gaps between teeth. They may even help even out disproportionately sized teeth. Veneers are custom-made by dental technicians based on a patient's particular tooth dimensions and color.
Like other cosmetic techniques, veneers are a blend of technology and artistry. They're made of a durable form of dental porcelain that can withstand biting forces (within reason, though—you'd want to avoid biting down on ice or a hard piece of food with veneered teeth). They're also carefully colored so that they blend seamlessly with your other teeth. With the right artistic touch, we can make them look as natural as possible.
Although porcelain veneers can accommodate a wide range of dental defects, they may not be suitable for more severe flaws. After examining your teeth, we'll let you know if you're a good candidate for veneers or if you should consider another restoration. Chances are, though, veneers could be your way to achieve what Aaron Judge did—a home run smile.
If you would like more information about porcelain veneers, please contact us or schedule a consultation. To learn more, read the Dear Doctor magazine article "Porcelain Veneers: Strength & Beauty As Never Before."
By Bennett Family Dental
November 10, 2021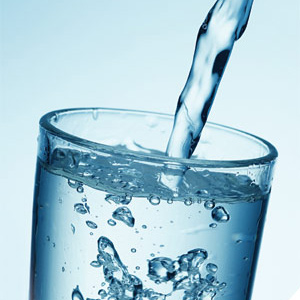 A popular Sixties-era hair cream touted their product with the tagline, "A little dab'll do ya!" In other words, it didn't take much to make your hair look awesome.
Something similar could be said about fluoride. Tiny amounts of this "wonder" chemical in hygiene products and drinking water are widely credited with giving people a big boost in protection against tooth decay.
A Colorado dentist is credited with first noticing fluoride's beneficial effects early in the Twentieth Century. Although many of his patients' teeth had brownish staining (more about that in a moment), he also noticed they had a low incidence of cavities. He soon traced the effect to fluoride naturally occurring in their drinking water.
Fast forward to today, and fluoride is routinely added in trace amounts to dental care products and by water utilities to the drinking water supply. It's discovery and application have been heralded as one of the top public health successes of the Twentieth Century.
Fluoride, though, seems a little too amazing for some. Over its history of use in dental care, critics of fluoride have argued the chemical contributes to severe health problems like low IQ, cancer or birth defects.
But after several decades of study, the only documented health risk posed by fluoride is a condition called fluorosis, a form of staining that gives the teeth a brown, mottled appearance (remember our Colorado residents?). It's mainly a cosmetic problem, however, and poses no substantial threat to a person's oral or general health.
And, it's easily prevented. Since it's caused by too much fluoride in prolonged contact with the teeth, fluorosis can be avoided by limiting fluoride intake to the minimum necessary to be effective. Along these lines, the U.S. Public Health Service recently reduced its recommended amounts added to drinking water 0.7 milligrams per liter (mg/L) of water. Evidence indicated fluoride's effectiveness even at these lower amounts.
You may also want to talk with your dentist about how much fluoride your family is ingesting, including from hidden sources like certain foods, infant formula or bottled water. Even if you need to reduce your family's intake of fluoride, though, a little in your life can help keep your family's teeth in good health.
If you would like more information on the benefits of fluoride in dental care, please contact us or schedule an appointment for a consultation. You can also learn more about this topic by reading the Dear Doctor magazine article "Fluoride & Fluoridation in Dentistry."