Posts for tag: dentures
By Bennett Family Dental
March 18, 2020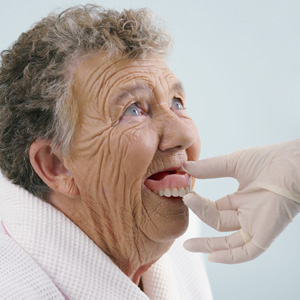 It's a common problem for denture wearers: after years of a comfortable fit, your dentures now seem to be uncomfortably loose. The reason, though, may have more to do with bone loss than the dentures.
Bone is a living tissue with a life cycle — it forms, it ages, and it eventually dies and dissolves (resorbs). It's replaced with new bone and the cycle repeats. Additionally, the forces generated when we bite or chew are transmitted from the teeth to the jaw, which helps stimulate new bone growth. When the natural teeth are missing, however, the bone no longer receives this stimulus. Resorbed bone isn't replaced at a healthy rate, which leads over time to bone loss.
Denture construction can also contribute to bone loss. The denture palate rests for support on the bony ridges that once held the teeth. Over time the compressive forces of the dentures apply damages and reduces the volume of gum tissue and eventually does the same to the bone. Combining all these factors, the reduced gum and bone volume will eventually alter the denture fit.
There are a few alternatives for correcting loose dentures. One is to reline them with new plastic, as either a temporary fix performed during an office visit or a more permanent relining that requires sending your dentures to a dental lab. Depending on the rate of bone loss, a patient could go through several denture relinings to accommodate ongoing changes in the jaw. At some point, though, it may be necessary to create a new set of dentures.
A third alternative that's becoming increasingly useful is to incorporate dental implants into the denture design. Implants can of course be used to replace individual teeth, but a few strategically placed implants (usually of smaller dimension) can serve as a support platform for a removable denture. This relieves some of the compression force of a traditionally worn denture and can slow bone loss.
If you're having problems with your denture fit, call us for an appointment. We'll help you decide on the best alternative to improving the fit and making your dentures more comfortable and secure.
If you would like more information on refitting loose dentures, please contact us today to schedule an appointment for a consultation. You can also learn more about this topic by reading the Dear Doctor magazine article "Loose Dentures."
By Bennett Family Dental
January 28, 2020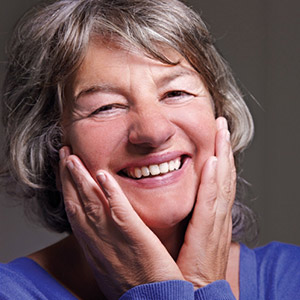 Think dental implants only replace individual teeth? Think again—this premier technology can also support other kinds of restorations to provide better stability and comfort. And, they also help improve bone health when incorporated with any type of tooth replacement options, especially dentures.
Although traditional dentures have enjoyed a long, successful history as a tooth replacement solution, they can interfere with bone health. That's because regular dentures fit in the mouth by resting on the bony ridges of the jaw, which has implications for the bone.
As living tissue, bone goes through a growth cycle with older bone cells dying and dissolving and newer cells forming to take their place. The teeth play a role in this growth cycle — the forces generated when we chew travel up through the teeth and help stimulate bone growth. When teeth go missing, however, so does this stimulus.
Traditional dentures can't replace this missing stimulus. In fact, the constant pressure of dentures on the jaw may even accelerate bone loss. A sign this is happening occurs when the dentures' once tight fit begins to loosen and they become uncomfortable to wear.
Implant-supported dentures can help eliminate this problem. We first surgically place a few implants in the jaw, the number determined by which jaw (the lower requires less) and whether the denture is removable or fixed. If removable, the denture has connective points that match the implant locations — you simply connect them with the implants. If fixed, the denture is screwed into the implants to hold it in place.
So, how does this help bone health? For one, the denture no longer puts as much pressure on the jaw ridges—the main support comes from the implants. And, the implants themselves encourage bone stimulation: The titanium in the implant has a special affinity with bone cells that naturally grow and adhere to its metal surface. This natural integration between implant and bone can stop bone loss and may even help reverse it.
If you're interested in implant-supported dentures, you'll first need to undergo a full dental exam with your dentist. These restorations aren't appropriate for all dental situations. But, if they can work for you, you may be able to enjoy the benefits of an implant-supported restoration.
If you would like more information on implant-supported restorations, please contact us or schedule an appointment for a consultation. You can also learn more about this topic by reading the Dear Doctor magazine article "Overdentures & Fixed Dentures."
By Bennett Family Dental
November 14, 2018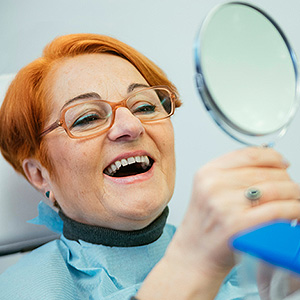 Edentulism, the loss of all of a person's teeth, is more than an appearance problem. As one in four Americans over 65 can attest, total tooth loss can lead to emotional suffering, social embarrassment and a lack of nutrition caused by limited food choices.
But there are solutions like the removable denture, an effective dental restoration for more than a century. In its current advanced form, the removable denture is truly a functional, affordable and attractive way to restore lost teeth.
Creating an effective denture begins first by taking detailed impressions of a patient's gum ridges. We use the measurements obtained from this process to create a plastic resin base colored to resemble the natural gums.  Using old photos and other resources documenting how the patient looked with teeth, we choose the best size and shape of porcelain teeth and then position them onto the base.
Finally, we fine-tune the dentures the first time they're in the patient's mouth to make sure they have a secure fit and a balanced bite when the jaws come together. We also want to be sure the dentures are attractive and blend well with other facial features. The result:  a new set of teeth that can do the job of the old ones and look nearly as real and attractive.
Dentures, though, do have one major drawback: they can't stop bone loss, a common consequence of missing teeth. In fact, they may even accelerate bone loss due to the pressure they bring to bear on the gum ridges. Continuing bone loss could eventually cause their once secure fit to slacken, making them less functional and much more uncomfortable to wear.
But a recent innovation could put the brakes on bone loss for a denture wearer. By incorporating small implants imbedded at various places along the gums, a denture with compatible fittings connects securely with the implants to support the denture rather than the gum ridges. This not only relieves pressure on the gums, but the titanium within the implants attracts bone cells and stimulates their growth.
Thanks to this and other modern advances, dentures continue to be a solid choice for tooth replacement. Not only can they restore a lost smile, they can improve overall health and well-being too.
If you would like more information on dental restorations for missing teeth, please contact us or schedule an appointment for a consultation. You can also learn more about this topic by reading the Dear Doctor magazine article "Removable Full Dentures."